Meet the PBRA Staff!
Jessica Nichols – Director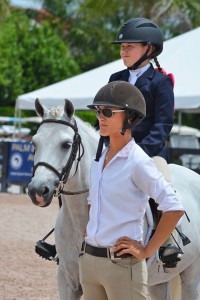 Jessica has been a Florida resident and Palm Beach Riding Academy trainer for the past three years, where she has been working with each of her students and horses on accomplishing individualized goals that are tailored specifically to each horse and rider. Under her tutelage, many of her students have gone on to win championships on the 'A' circuit as well as WEF.
Before moving to Florida, Jessica worked at The Madeira School in Northern VA, where she was an instructor of riding and IEA coach at the Varsity and Junior Varsity level.  During her time there, riders under her instruction went on to win top ribbons at local, rated, and IEA horse shows and were competitive at regional, zone, and national championships. Prior to moving to Virginia, Jessica worked for a private show barn in Northern New Jersey, traveling the A-circuit where she assisted with the riding, training, horse care, and instruction of top show horses and riders. She received her bachelor's degree in Psychology from Barnard College and Master's of Social Work from Columbia University where she competed as undergraduate and alumni on their IHSA team, serving as captain winning ribbons at the regional, zone, and national level in addition to being competitive on the 'A' show circuit.
Jessica has a true passion for teaching riders from the ground up, exposing them to all aspects of horsemanship both mounted and unmounted in their lessons. She is excited to continue to have the opportunity to work with a great team of instructors, horses, and riders at the Palm Beach Riding academy.
Contact Information:
jnichols@equestriansport.com
Phone: (908) 451-8930
Lexi DeBello – Barn Manager & Assistant Trainer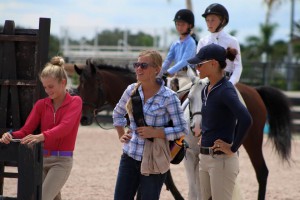 Lexi came to Palm Beach Riding Academy after working at a Rehabilitation facility in Central, NJ. She has a breadth of expertise in horse care, barn management, equine upkeep, and rehabbing/exercising horses. In addition, she also worked for Briarwood Farms, managing their summer camp program and teaching lessons. Before that Lexi worked for a private Hunter/Jumper barn in Northern Virginia, training and conditioning horses. Lexi has a true passion for equine health and well-being as well as a clean and organized work environment, upholding the values and character of the team at Palm Beach Riding Academy.
Lexi is truly a valued member of the Palm Beach Riding Academy Team, and you'll seldom see her without a smile.
Contact Information:
lxldebello@aol.com
Phone: (561) 291-2838